Individually the delicate, tissue paper like flowers of the Poppy may be quite fleeting in nature but on mass they can provide a beautiful and vibrant show over many weeks. In a meadow style planting they also provide that much needed movement as they gently sway in the summer breeze.
The Poppy family (Papaveraceae) offers the gardener a range of annual, biennial and perennial species in an amazing spectrum of colours that span yellow, pink, scarlet, deep plum, orange, blue and white. Certainly not all poppies are red!
Papaver rhoeas (Common Poppy)
Despite the adoption of modern agricultural practices and the reduction of our native poppies in the countryside we do still see the occasional field full of red poppies as we drive across the Cotswolds in summer.
Probably more common in the garden setting are Shirley poppies. These were initially bred from field poppies by the Rev. William Wilks, vicar of Shirley in Surrey in the late 1800's. He selected a range of white edged flowers that have now been developed into a range of tones.
Papaver rhoeas is an annual herbaceous plant usually flowering in late spring and into summer.
Papaver nudicaule (Iceland Poppy)
Another common garden plant is the Iceland Poppy. It originates from sub-arctic regions and can grow to a height of 1-2½ feet. It is the poppy most frequently grown as a cut flower and is also a charming garden plant.
P. nudicaule (nudicaule meaning bare stemmed) is a perennial that is most commonly grown from seed as an annual. Sown at 18-24º C the tiny seeds will germinate in 7-12 days. These seedlings can be pricked out into modules to grow on and then be planted out when conditions are suitable.
Interestingly Iceland Poppies do poorly when the temperature rises above 21º C. The plants flower from mid-spring to mid-summer and usually produce 10-15 stems before being checked by warmer temperatures.
Papaver somniferum (Opium Poppy)
The Opium Poppy is an attractive, upright annual herbaceous plant that can grow to a height of around 100cm. As a garden plant they have been bred in a number of colours in both single and double forms although we have found the double forms are sometimes too heavy to stand upright on their stems. The foliage has a characteristic blue-green glaucous apprearance and they seed themselves freely around our garden.
The seed heads are particularly attractive and can be used both green and dried in flower arrangements and wedding buttonholes.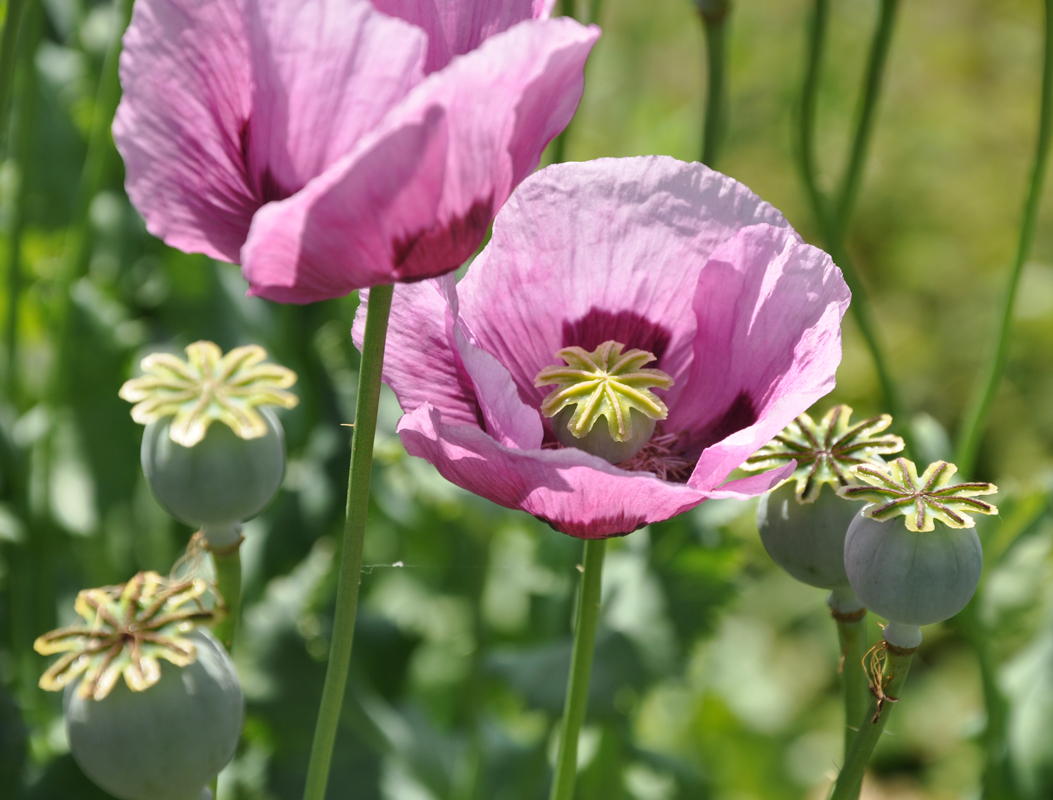 Papaver orientale (Oriental Poppy)
The Oriental Poppy is a very hardy perennial poppy growing to a height of 3 feet with a spread of 2 feet. For us it is a very reliable spring flowering herbaceous plant that produces a large number of large, hand-sized flowers. The large fleshy stems and foliage will often need staking to keep them looking at their best.
They originate from the Caucasus, north eastern Turkey, and northern Iran and in the wild grow on rocky slopes and dry meadows. Originally orange these plants now have cultivars that come in a wide range of colours. We have found the white varieties are particularly prone to damage if we get a lot of rain and can look like a sad, soggy hankerchief at times.
Oriental poppies combine well with other plants in low herbaceous borders. One of my favourite parts of the garden combines these pink oriental poppies with aquilegia, ox-eye daisies, purple flag iris, lime-green alchemilla and dusky pink valerian.
It is worth mentioning that by mid-summer the foliage and flowers of P. orientale will have died down entirely and will need to be cut back. To continue the display into late summer it is important to surround these poppies with other later flowering perennials.
Eschscholzia (Californian Poppy)
Grown well Californian poppies can produce a spectacular show of delicate, bright orange blooms complemented by equisite blue green foliage. Ever since seeing the wonderful display at East Rustan Old Vicarage in Norfolk I have been trying to grow these in our own garden – but with only limited success. Native to California, these hardy annuals grow in dunes, rocky hills and roadside banks and I can only think that our soil and conditions here in the UK Midlands are a little too damp to allow them to thrive.
Meconopsis betonicifolia (Himalayan Poppy)
We have found the beautiful blue Himalayan Poppy to be somewhat of a challenge to grow successfully. It is something that Carol's grandfather, Fred Mason, grew successfully in his garden in Bolney in Sussex for years. Although we have tried on a number of occasions we have never managed to keep this perennial poppy going from year to year.
Its delicate, true blue petals are truely enchanting and a definite showpiece when you are successful however.
As the name suggests blue Meconopsis are native to the Himalaya and Western China. They grow in alpine meadows, woodlands and on screes and like cool, damp summers. Although we have cool and damp winters our summers here are increasingly hot and dry and our clay soil holds little moisture in the heat of the summer. The reference books indicate that Meconopsis need plenty of water in summer and as little as possible in winter which does not sit at all well with our conditions. However, there are plenty of other Poppies that we can grow very successfully.
Meconopsis cambrica (Welsh Poppy)
To illustrate the point above a related Meconopsis, the yellow Welsh Poppy, grows very successfully here at Waverley. It is the only Meconopsis that is native to western europe. It is a short -lived, delicate perennial that seeds itself freely.
Cultivation
In general poppies are easy to grow and like sun or semi-shade in moist but well drained soil. I think they look at their best if planted in generous clumps.
The annual species ( such as P. rhoeas ) do not like to be transplanted and so are best sown where they are to flower. It is important not to cover the tiny seed as they need light to germinate. As cornfield plants they are naturally colonisers of disturbed ground and the seeds can survive in a dormant state for many years before being exposed by ploughing. They will then germinate rapidly if conditions are right. This is also the reason why they are associated with battlefields where the ground was distrurbed by the bombs, grenades and troop movements.
Biennials or short lived perenial species (such as P. nudicaule) are more tolerant of being transplanted. We sow these on the surface of trays of multi-purpose compost (again not covering the seed) in an unheated greenhouse. When the plants are big enough to be pricked out we plant them up into larger modules and allow them to grow on. The modules are them transplanted out when conditions are right trying not to disturb the roots if at all possible.
The larger perennial species (such as P. orientale) are best propagated by root cuttings in the winter especially if you wish to retain the characteristics of a particular cultivar. They are unlikely to come true from seed.
Many poppies will self seed freely if the conditions are right. We have not found them to be at all invasive and if they do happen to seed themselves somewhere they are not wanted they are very easy to remove.
Cutting and conditioning
It is possible to use poppies as cut flowers but they do need to be cut at the right stage, prepared and conditioned appropriately to get the best out of them. We do not find them particularly long lasting but they do certainly add a definite country feel to any bouquet.
Poppies for the vase should be cut when the flower buds are beginning to break and the colour is just able to be seen. If they are fully open they will be difficult to condition.
The base of the stems should be seared in boiling water for 20-30 seconds before topping up the vessel with cold water. The stems should then be left to condition in a cool place, out of direct sunlight for at least 2 hours and preferably overnight. The searing process reduces the flow of the milky sap (latex) which would otherwise bleed out and clog up the xylem vessels which transport the water up to the flower.
Winter arangements
It is worth highlighting that many types of poppy produce interesting seed heads that are also excellent for autumn and winter arrangements (along with the seed heads of nigella, teasel, honesty and dried hydrangea flowers).
In our ceramics we have also found that poppy seed heads can be used to make some interesting botantical texture effects that will be picked out by using oxides or suitable glazes.
Further reading
"Specialty Cut Flowers" by Armitage and Laushman (ISBN 0-88192-579-9)
"The Cutting Garden" by Sarah Raven (ISBN 978-0-7112-3465-9)
"The Flower Farmers Year" by Georgie Newberry (ISBN 9780857842336)
"100 flowers and how they got their names" by Diana Wells (ISBN 1-56512-138-4)
"A-Z of perennials" Consulting Editor: Lizzie Boyd (ISBN 0-276-42087-X)
"A-Z of annuals, biennials and bulbs" Consulting Editor: Lizzie Boyd (ISBN 0-276-42089-6)
"Perennial Volume 2: Late Perennials" by Roger Phillips and Martyn Rix (ISBN 0 330 30936 9)